Where compassion and sensibility collide, you'll find Dr. Janet McElhaney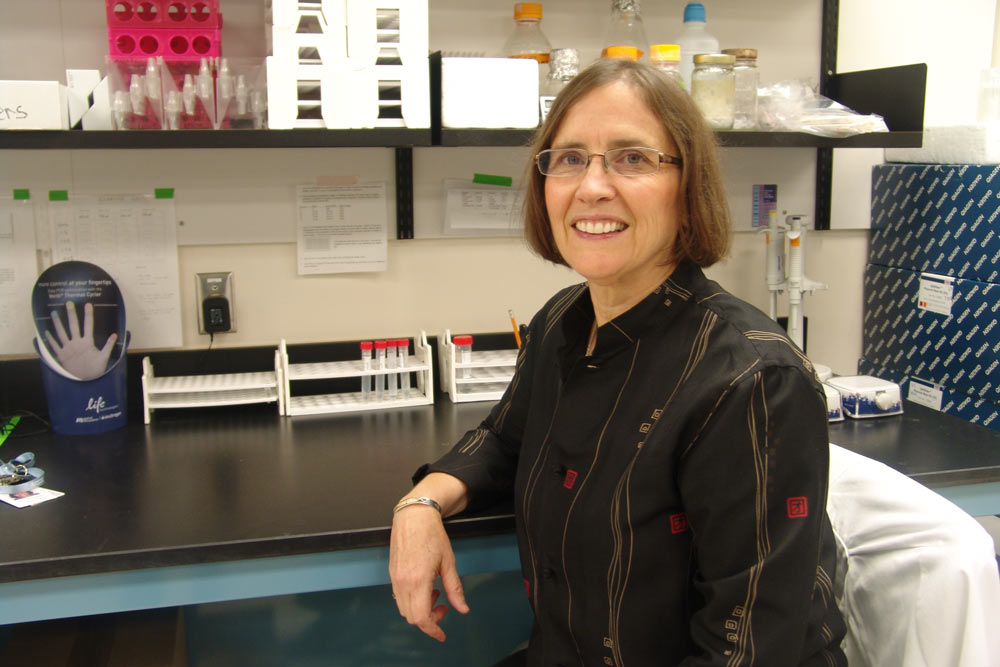 Dr. Janet McElhaney
Member, CIHR Institute Advisory Board (IAB) on Indigenous Peoples' Health
Photo courtesy of Health Sciences North
Advancing the science of aging well, the CIHR Institute Advisory Board (IAB) on Indigenous Peoples' Health welcomes Dr. Janet McElhaney
February 7, 2017
Dr. Janet McElhaney's appointment to the Institute Advisory Board on Indigenous Peoples' Health, a key component of the Canadian Institutes of Health Research, is recognition of her international stature as a leader in geriatrics clinical care and research.
Vice-President of Research and Scientific Director of the Health Sciences North Research Institute in Sudbury, Dr. McElhaney is also a professor of Medicine at the Northern Ontario School of Medicine.
Expanding her clinical research to address the challenges of multiple chronic conditions in Indigenous communities of Northern Ontario, her work directly supports local efforts to develop enhanced, culturally appropriate options for community-based care and promote healthy aging with dignity.
Being a culturally competent communicator makes Dr. McElhaney able to build trust among Elders. This same openness of spirit also allows her to demonstrate the benefits of integrating Western medicine with traditional Indigenous ways of knowing and healing.
As she forges positive working relationships, one community and one patient at a time, health care providers and community leaders alike know that they can count on her openness to respectful knowledge exchanges. Her work with Indigenous Elders and communities dovetails seamlessly with Dr. McElhaney's other professional interests. For instance, she is taking a fresh look at how to reduce risk for older and often frail patients who are hospitalized due to an acute health event. For the past few years, she has worked with partners to develop practical ways to engage older patients and caregivers with their health care team to design individualized treatment approaches. The result is "48/5", a care intervention program that applies practical solutions to address common health issues and restore older patients to their previous level of independence. This approach makes a positive difference in their quality of life following hospital admission and reduces the likelihood of readmission.
Simply put, within 48 hours of admission, each patient is examined to gather information in five key areas that will lead to decisions, informed by evidence, concerning:
the appropriateness of their medication, reconciling any conflicts
cognition/delirium
functional mobility
nutrition and hydration
bowel and bladder function
The originator and staunch promoter of the "48/5" strategy, Dr. McElhaney encourages a new way of thinking about the care of older adults in the hospital setting, stressing collaboration and effective communication between care teams.
Her work is producing results, helping hospitals to forge partnerships with other community service providers, united by a single goal: to ensure that seniors are able to stay out of hospital for as long as possible and enjoy the best possible quality of life for as long as possible. 
She knows that accessing alternate levels of care (ALC) is a national issue and current statistics reveal a troubling trend: one in three senior citizens admitted to an acute care hospital will be discharged with a higher level of disability. She has demonstrated that 48/5 will go a long way to address the risks associated with hospitalization. This also helps to address the chronic bed shortage that plagues many Canadian hospitals. 48/5 improves care for older adults, improves access to hospital beds for all patients, and improves retention of the workforce through enhanced work satisfaction for members of the healthcare team.
48/5 improves care for older adults, improves access to hospital beds for all patients, and improves retention of the workforce through enhanced work satisfaction for members of the healthcare team.
Click here to read more

VITALiTY

"We need to understand that the increase in frailty that happens to older people when they come into hospital is actually preventable. Implementation of 48/5 supports the practice of health care workers to help patients recover to their baseline function and return to their home, and reduces pressure on hospital beds related to Alternate Level of Care numbers"
- Dr. McElhaney

Leading the team of researchers exploring how vaccination plays a role in preventing catastrophic disability in older adults, Dr. McElhaney published a landmark study on the impact of "Immunosenescence" (a term attributed to describe the slow, gradual degradation of the immune system that is a natural part of aging but accelerated by the presence of multiple chronic conditions and infections) on the body's responses to vaccination.

Her research program, "Vaccine Initiative to Add Life to Years" (VITALiTY), is an interdisciplinary team approach using measures of frailty to reflect a patient's overall health status, assess risk factors for catastrophic disability, and develop immunologic biomarkers of risk for influenza that can be used to develop more effective vaccines for older adults.

The leading causes of catastrophic disability in older adults are:

stroke
congestive heart failure
pneumonia and influenza
ischemic heart disease (insufficient blood flow)
cancer, and
hip fracture

Higher rates of multiple chronic conditions in Indigenous people lead to disability at a younger age, and 69% of those over age 65 reporting activity limitations in their daily lives.

The team's objective is to determine which inflammatory markers predict catastrophic disability, relate these markers to other identified risk factors, and develop targeted interventions. For Indigenous people, this means addressing the challenges of multiple chronic conditions that are now epidemic within their communities, and prevent catastrophic disability through community-based approaches to support aging in a good way.

Dr. McElhaney is putting her 25 years of expertise to good use, developing policies and programs that not only advance the science of aging well, but also protect our elders so that they may flourish long into their golden years.
Associated links
Date modified: