Funding overview
Resources for researchers
As the Government of Canada's health research investment agency, the Canadian Institutes of Health Research (CIHR) supports excellence across all four pillars of health research: biomedical; clinical; health systems services; and population health.
As stated in the CIHR Act, CIHR's mandate is to "excel, according to internationally accepted standards of scientific excellence, in the creation of new knowledge and its translation into improved health for Canadians, more effective health services and products and a strengthened Canadian health care system."
Funding support for researchers
CIHR invests approximately $1 billion each year to support health research. This funding is divided into two types of research: investigator-driven and priority-driven.
Investigator-driven research (also known as "curiosity-driven" or "open" research) refers to projects created by individual researchers and their teams. Researchers submit their proposals to CIHR for peer review, and the top applications receive funding.
Approximately three-quarters of CIHR's $1 billion budget is used to support investigator-driven research. This funding is provided primarily through the Foundation Grant program and the Project Grant program, as well as through Tri-Council, career, and training programs, such as the Canada Research Chairs, Banting Postdoctoral Fellowships, and Vanier Canada Graduate Scholarships.
Priority-driven research (also known as "strategic" research) refers to initiatives created by the Government of Canada to investigate pressing health issues that are of strategic importance to our country. CIHR issues a call for research proposals that address a specific area of need, the proposals are peer reviewed, and the top applications receive funding.
Approximately one-quarter of CIHR's $1 billion budget is provided to support priority-driven research.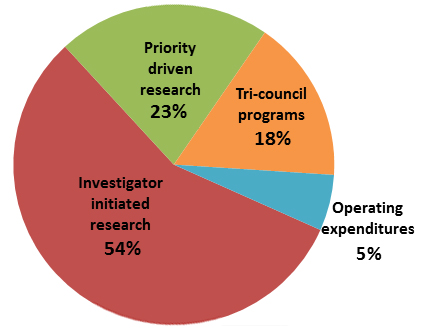 Distribution of CIHR's annual budget

| | |
| --- | --- |
| Investigator initiated research | 54% |
| Priority driven research | 23% |
| Tri-council programs | 18% |
| Operating expenditures | 5% |
CIHR Institutes
CIHR is comprised of 13 Institutes that set research priorities and support a broad spectrum of research in their respective areas. Rather than brick-and-mortar buildings, these "virtual" Institutes are located within research institutions throughout Canada.
Each of CIHR's 13 Institutes is led by a Scientific Director.
Reform of CIHR's open funding programs
In 2009, CIHR embarked on a series of reforms of its open funding programs and peer review process to improve the sustainability of the health research system, the transparency and fairness of the granting processes, and the quality and impact of the research supported by federal investments.
College of Reviewers
Through the College of Reviewers, CIHR is building a stable base of peer reviewers from Canada and around the world that is helping to strengthen the health research enterprise.
Applying for funding
CIHR accepts applications for funding support that fall within its mandate, subject to agency policies and the specific requirements of the applicable funding opportunity.
For more information, please see the list of current funding opportunities.
Equitable funding in health research
CIHR is committed to ensuring that its programs, funding opportunities, and evaluation systems result in the fair treatment of all participants. Learn about our approach to funding equity, including data analyses of our programs.
Date modified: